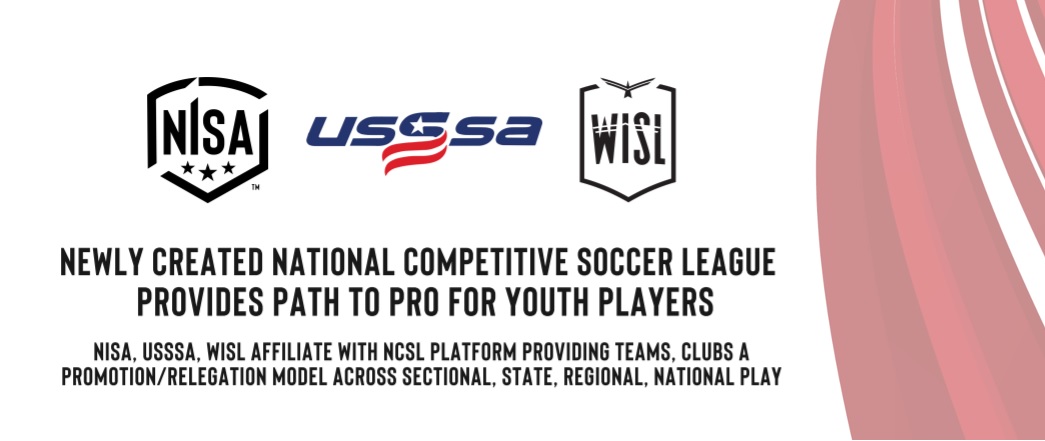 MELBOURNE, FLA (August 11, 2021) – The National Competitive Soccer League today announced a forward-thinking affiliation with National Independent Soccer Association (NISA), United States Specialty Sports Association (USSSA), and Women's Independent Soccer League (WISL) to create a national-level competitive youth system. The platform – National Competitive Soccer League (NCSL) – will enable teams and clubs to follow a model of promotion and relegation across sectional, state, regional, and national play. It is targeted to begin in 2022.
The NCSL will be the youth component of the open system, path-to-pro pyramid for male and female players, with National Independent Soccer Association (NISA) and the Women's Independent Soccer League (WISL) at the top.
"NCSL fulfills a critical element of a true open system in the U.S.," says NISA Commissioner John Prutch. "Players, coaches, staff and referees can go from youth to adult amateur with one of NISA's affiliates to NISA Pro or WISL, where they can reach their potential. This is the only professional open system league for independent clubs."
Chris Duke, an experienced senior executive in youth soccer, has accepted the role of commissioner, leading the charge to change the landscape of youth soccer in this country.
"I am very excited to join a team which involves three strong organizations," says Commissioner Duke. "This new platform provides a stronger focus on the 'player' for advancement to the next level and allows all clubs to have the opportunity to participate. It also establishes a clear and defined pathway for players that want to continue playing beyond their youth career."
USSSA will provide sanctioning for the new platform as an Organizational Member of United States Soccer Federation (USSF).
"Over the past year, we've been working towards helping to change the landscape of soccer within the country," says USSSA Vice President Craig Scriven. "In NCSL, we are expanding opportunities not only for our (USSSA) members but also for single teams, clubs of any size, and independent leagues who wish to provide a full pathway for their membership."
More information will be released in the coming weeks and months regarding where and how to learn more. Continue visiting: www.nisasoccer.com, www.wisleague.com, and www.usssasoccer.com for these announcements.