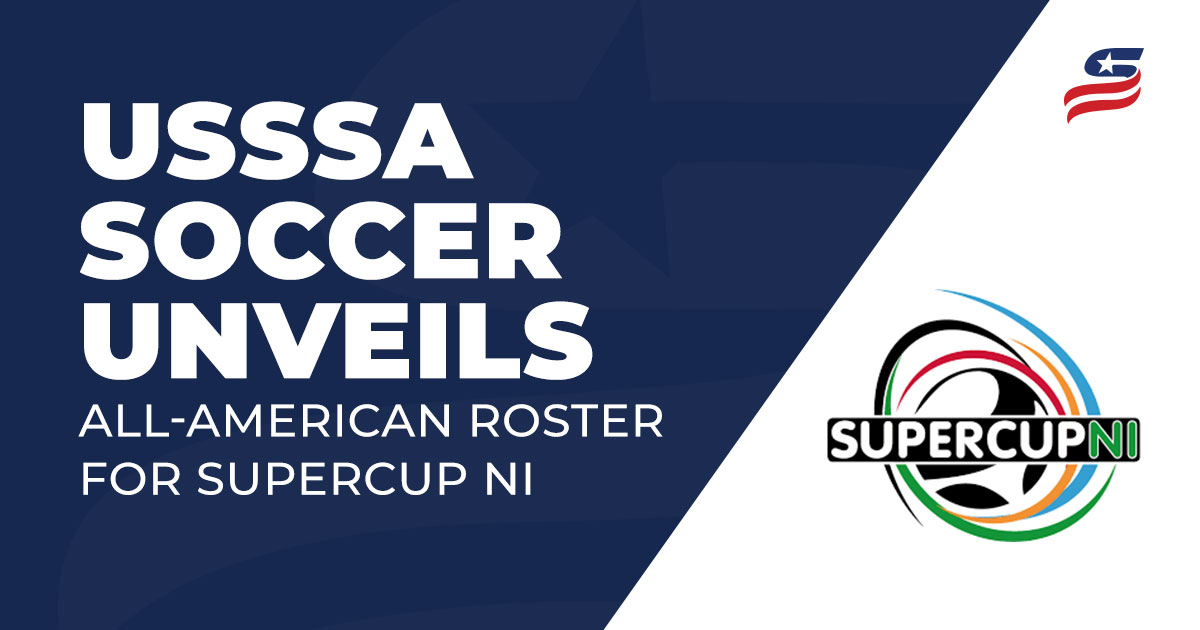 Melbourne, FL. – USSSA Soccer is thrilled to announce the highly-anticipated All-American roster for the upcoming SuperCup NI tournament. After an extensive selection process, which involved evaluating top talent from across the nation, USSSA Soccer has assembled an extraordinary group of young female athletes who will represent the United States in one of the most prestigious youth soccer competitions in the world. 
SuperCup NI, formerly known as the Milk Cup, has been a pinnacle event for youth football since its inception in 1983. The tournament brings together elite teams from various countries to compete in a spirited showcase of skill, determination, and sportsmanship. This year's event promises to be nothing short of exceptional, with USSSA Soccer confident that their All-American team will excel on the international stage. 
"We are incredibly proud to announce the USSSA Soccer All-American roster for SuperCup NI," said James Janosz National Youth Soccer Manager for USSSA. "These young ladies have worked tirelessly throughout the year to earn their place on this esteemed team. SuperCup NI provides a fantastic platform for them to showcase their skills, learn from international competition, and forge lasting memories. We are confident that they will give their all and uphold the highest standards of sportsmanship and fair play," added Janosz. 
The USSSA Soccer All-American roster for SuperCup NI is as follows: 
Makayla Colberg – Fort Mill, SC

 

Avary Collins – Southlake, TX

 

Sophia "Fifi" Corlew – Rio Rancho, NM

 

Jenna Golubeff – Tampa, FL

 

A'mari Grimsley – Converse, TX

 

Adeena Koci – Anthem, AZ

 

Piper Montgomery – Hendersonville, TN

 

Bria Nackley – Clinton, NY

 

Ciara O'Driscoll – Attleboro, MA

 

Mikayla Pieratt – Cardiff, CA

 

Aiyana Polkow – San Luis Obispo, CA

 

Hannah Ricci – Solvang, CA

 

Brice Roehricht – Rancho Santa Margarita, CA

 

Leah Silhol – Phoenix, AZ

 

Charlotte Wyckoff – Yakima, WA




 
The USSSA Soccer All-American team, under the guidance of their staff, is looking forward to embracing the SuperCup NI experience and competing against the best youth talent from around the globe. The tournament will not only serve as a stage for these young athletes to showcase their abilities but also offer invaluable learning opportunities and cultural exchanges.
USSSA Soccer extends its heartfelt appreciation to the players, coaches, families, and supporters who have contributed to the development of these exceptional athletes. Their unwavering commitment to the sport and the growth of youth soccer in the United States is truly commendable. 
For more information on USSSA Soccer and updates regarding the SuperCup NI tournament, please visit https://supercupni.com/competitions/girls-junior/. Follow us on social media @USSSA Soccer to stay connected and show your support for the USSSA Soccer All-American team.