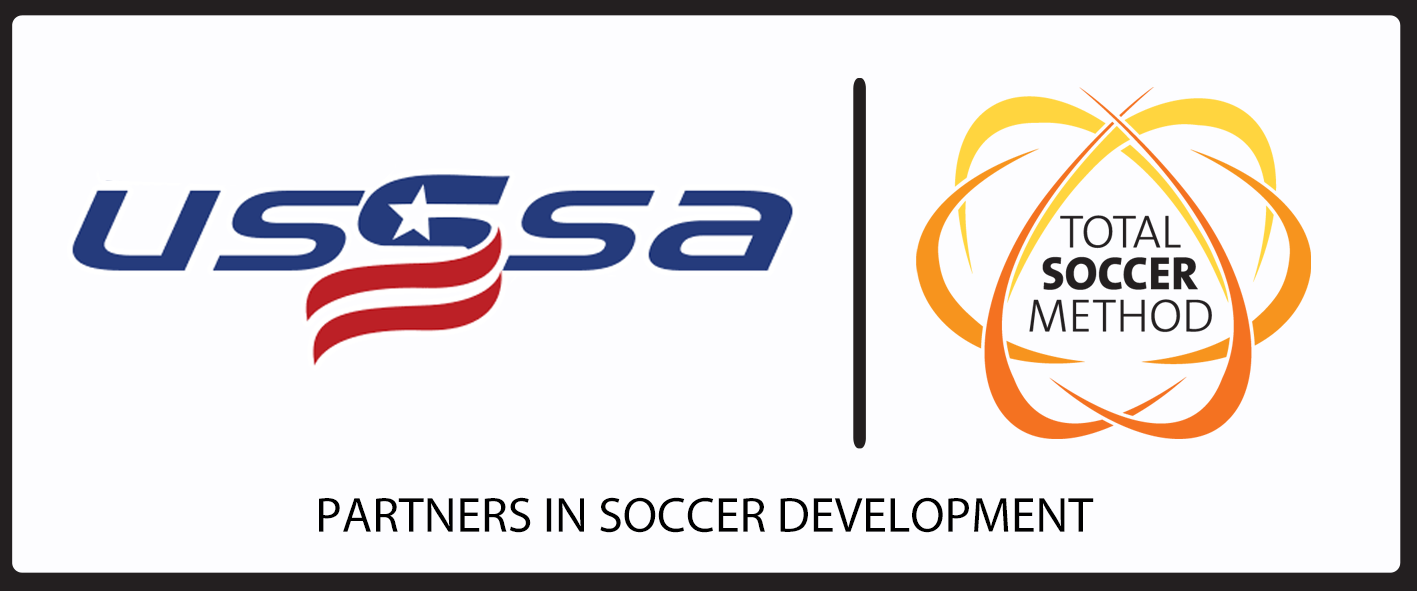 MELBOURNE, FLA. In continuing to add value this spring, USSSA Soccer is pleased to announce a long-term partnership with the Total Soccer Method (TSM) as their official continued educational provider. The partnership will allow member teams, clubs and W.I.N. Program participants webinars throughout the year and onsite coaching education courses beginning this winter.
TSM is an ideal partner for clubs, academies and organizations around the world who really want to develop player's long term. With the knowledge, expertise and experience of TSM, they ensure the best support for clubs, academies, and organizations. Their programs include annual training plans, education of coaches on a regular basis, and TSM in person courses.
USSSA already provides U.S. Soccer Federation licensed courses throughout the country to its members and will continue to do so. The TSM partnership allows for continued education, development and opportunities for coaches, teams, and clubs to learn throughout the year. This program will be open to USSSA members three times a year through webinars and WIN Member Clubs seven times, with onsite learning camps in the winter and summer.
"Over the past couple of years, we have helped hundreds of coaches through our coaching educators and Federation licensed courses," stated Craig Scriven, Vice President of USSSA. "We now have the ability to help these coaches even more through continued education and in turn, help players, families and the soccer community benefit from our partnership with TSM."
TSM is a complete and dynamic soccer coaching educator which is suited for clubs, teams, players, and coaches. Their methods originate from The Netherlands and has been developed and implemented at both grass roots and professional levels in various countries around the world.
"We are looking very much forward to the collaboration with USSSA and its members" stated Mark Huis in 't Veld, CEO of TSM. "Through this partnership we aim to inspire and develop a great number of coaches who at their turn will do exactly the same to the players they work with."
TSM clients include youth clubs, organizations, and professional clubs across the globe. They've helped educate coaches in the following countries: Aruba, Belgium, China, Germany, Greece, Kazakhstan, Kenya, Malaysia, Netherlands, Singapore, Slovakia, Sweden, Uganda, Ukraine and USA.
Additionally, TSM along with USSSA other partners including Academy Soccer Coach, will be working together to create other benefits and opportunities for clubs, coaches and players which will be released later in the year.
USSSA is a multisport organization with over 4,000,000 members in sports; soccer, baseball, softball, basketball, volleyball, golf, martial arts and seven other sanctioned sports. They have been a member of U.S. Soccer since 2001 and work with leagues, tournaments, clubs, teams in over 45 states. To learn more about USSSA, visit; www.usssasoccer.com. Contact USSSA; soccerinfo@usssa.com.
Learn more about Total Soccer Method by visiting here; www.tsmsoccer.com