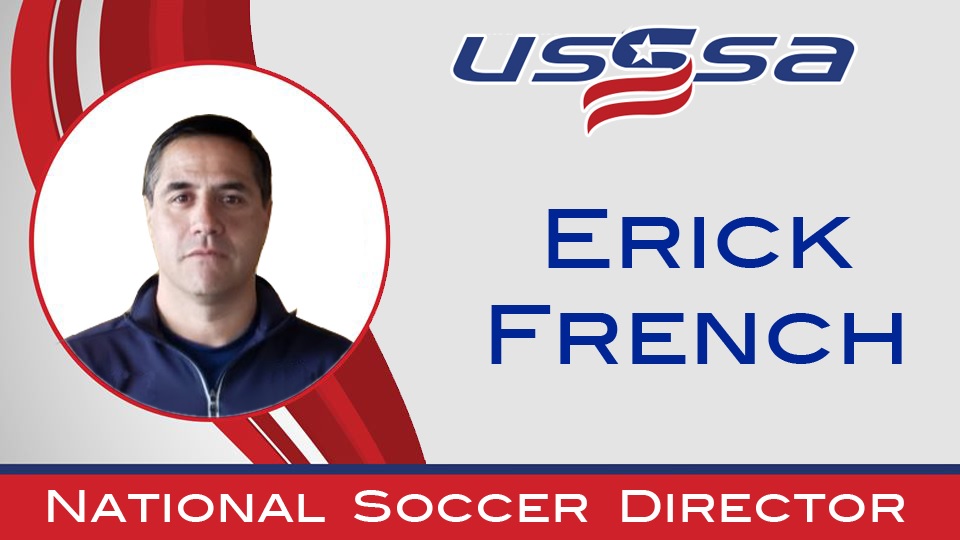 MELBOURNE, FLA. For the first time since 2006, USSSA will have a new National Director of Soccer after promoting Erick French to the role at National Convention. French who has been with USSSA for the past ten years, serving as the National Adult Director will assume the National Director role starting in 2020.
The promotion of French is part of an organizational structure review and strategic planning as we head into a new decade. Earlier this month, Scott Armstrong was named Director of Education and at the beginning of the year, Roger Bongaerts was presented as the Technical Director of USSSA's youth development W.I.N. Program.
"Everyone's been working hard within our organization to build on the foundation which we've developed over the past thirteen years." stated Craig Scriven, Vice President of USSSA. "Our goal is to provide the membership with individuals who create a well-rounded team focused on serving and developing programs."
Craig Scriven has served as National Director for USSSA since 2006. He will continue to work with Erick and other directors within the soccer program. Scriven now serves USSSA as Vice President of Field Sports and in November, was elected to the USSSA Board of Directors. He takes up the position on the board starting in January 2020.
"I joined USSSA when I needed an organization which understood my needs.  USSSA was able to help me continue to be a sanctioned league under the Federation." Erick French said. "Over the years, I have seen how we (USSSA) are able to provide soccer organizations, leagues, and tournaments with the leadership and support necessary for their success. With the realignment of our organization, we now plan for more programming which will enable our members to continue to grow and excel."
USSSA is a multisport organization with over 4,000,000 members in sports; soccer, baseball, softball, basketball, volleyball, golf, martial arts and seven other sanctioned sports. They have been a member of U.S. Soccer since 2001 and work with leagues, tournaments, clubs, teams in over 45 states. To learn more about USSSA, visit; www.usssasoccer.com. Contact USSSA; soccerinfo@usssa.com.