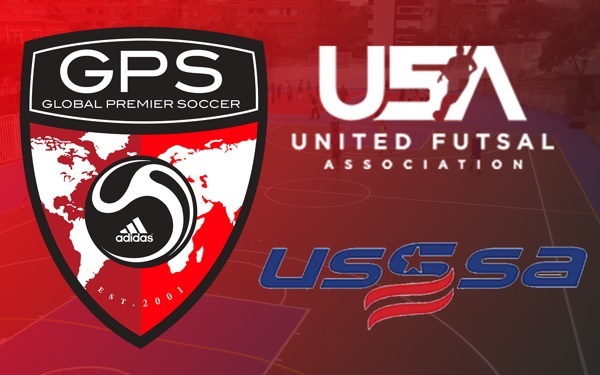 SPACE COAST, FLA. United States Specialty Sports Association and Global Premier Soccer are delighted to announce an extensive partnership with United Futsal Association to deliver a pathway to the World Futsal National Championships at the ESPN facility, Disney Florida.
The partnership will provide high level Regional Futsal qualifiers throughout North America with qualifying teams earning their berth to compete for a World Title.
The Worlds Futsal Championship take place at the ESPN Wide World of Sports Facility located at the Walt Disney World Resort in Orlando, Florida. This 220-acre facility is considered to be one of the most prestigious sporting venues in the world and sees teams from across the globe come together to compete in the world's largest youth Futsal tournament.
Through this partnership all players will be registered with USSSA and in turn U.S. Soccer. Benefits associated with this include; insurance, as well as rosters and carding, and playing in sanctioned event circuit under USSSA membership with the Federation. The UFA Regional Qualifiers will also feature official certified Futsal Referees who have extensive knowledge of the game and its intricacies.
Most importantly however, is that the UFA Regional Qualifiers will provide a defined pathway to a World Futsal Championships event while also opening the door for both league and tournament play.
The United Futsal Association, which launched in 2010, aims to bring the highest level of Futsal to every coach, player and organization through the facilitation of camps, clinics and seminars in addition to hosting professional and amateur tournaments. UFA also provides consulting support for leagues, facilities and state/regional associations.
Futsal is an exciting, fast-paced small sided soccer game that originates from South America in the 1930s. It is widely played across the world, and is the small sided football format that is officially recognized by both the U.S. Soccer Federation and F.I.F.A.
The nature of the game places a large emphasis on technical skill and ability in situations of high pressure and is subsequently an excellent breeding ground for soccer competencies that can be translated into the soccer format of the game. Many of the top world class soccer players played Futsal in their youth and credit it with supporting their development. Players of the caliber of Ronaldinho, Kaka, Lionel Messi, Cristiano Ronaldo to name a few all played and enjoyed Futsal in their youth.
"Global Premier Soccer have been the trendsetters for years in bringing the highest level of soccer from around the world to cities in the North America and abroad," said Rob Andrews, President of United Futsal Association. "Alongside USSSA and GPS, we are honored to be among the many global partnerships they hold with some of the world's most prestigious sports brands and look forward to supporting them and USSSA as they enter this new chapter of Futsal in the organization's already storied history. "
"The partnership with USSSA and United Futsal Association will provide players a unique opportunity to experience futsal in the US and Canada with a focus on both development and elite competition. We are excited to start hosting regional events in North America with qualifying teams getting a bid to the World Futsal Championships" stated James Hamblin, National GPS Tournament Director.
"This agreement brings together three organizations who are focused on being game changers and providing their membership with the best opportunities," said Craig Scriven, Vice President of USSSA. "We will create a competition circuit and structure which will lead players, teams and their families to a top destination and an even greater event."
Come participate in one of the fastest growing sports in the world by visiting our website for all information on UFA qualifiers www.gpstournaments.com/futsal.
If you have any further questions or interested in hosting a qualifying event, please contact Tournament Director James Hamblin via email jhambin@globalpremiersoccer.com.
For more information on registering your league, contact USSSA via email soccerinfo@usssa.com.